We love to chase the dream projects
We are Corey MacLennan and Daniel Burke, and we take pride in building every aspect of your home, using the best possible materials, and with an attention to detail not afforded by many contractors.
We pursue projects that require a high level of sophistication, skill, and intentioned execution. While we would unlikely use the words bespoke or boutique to describe our work, our sense of the value of craftsmanship would most certainly fall under that camp.
Our relationship with you is of equal importance to the reverence we have for our work. It's these two distinct philosophies that make Blueprint Construction a unique entity in Halifax and the South Shore region.
"Our relationship with you is of equal importance to the reverence we have for our work."
We have built a company with a solid foundation based on craftsmen who are passionate about building science
We focus on large projects such as new architecturally designed homes or extensive home renovations. We believe that by intentionally limiting our company's size and choosing only the best projects, we will attract and retain passionate staff and that will translate into a customer experience unrivalled by the average custom home builder.
Over the last decade we've witnessed a boom in high end residential construction both within the Halifax Regional Municipality as well as the vacation communities along Nova Scotia's South Shore. Our aim is to be at the top of the list for homeowners and architects who require:
a building firm that demands the use of the best materials and available technologies
a builder that is intimately involved with the project
and is as passionate about each project as our clients
We aspire to be one of the best high end residential builders in Nova Scotia.
We don't believe in sales speak or vapid statements. Therefore we prefer to outline what we offer our customers as straightforward as possible
We use a cost plus model of building that provides our clients with transparency and a clearer value for their money.
We limit the number of projects that we accept in order to be fully present for our clients.
Client communication is paramount including daily and regular updates as well as clear documentation of change of project scope and budget.
Our team of carpenters work for us because they love what they do. 80% of our staff are seasoned builders. We also offer great learning opportunities to up-and-coming craftsmen who get to experience unique one-off projects and develop a passion for the craft of home building.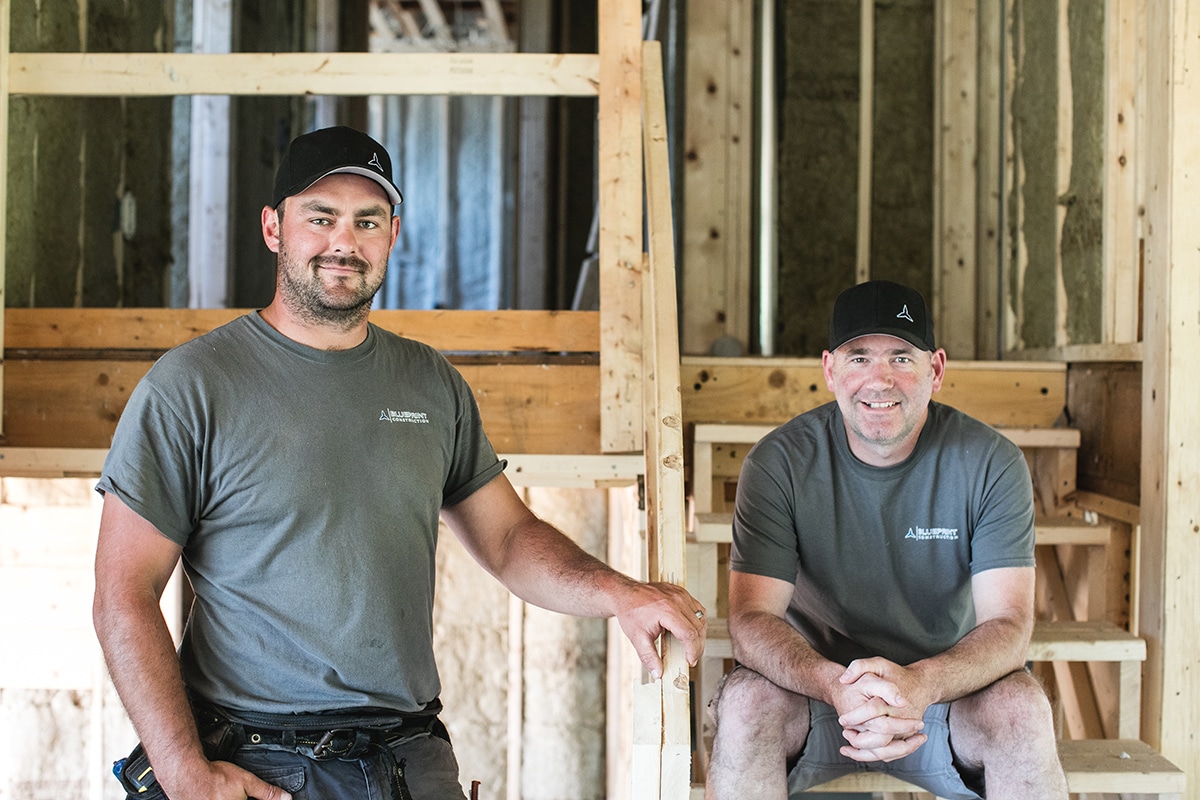 Daniel grew up under the shadow of Peggy's Cove Lighthouse in nearby Dover. His love for the sea eventually led him to enroll in a Marine Navigation program. He sailed around Canada for 2 years before returning to his studies. After several years of living out of the province Daniel returned to his roots to make his home and career in Nova Scotia.
After his marine adventures, Daniel returned to university and studied business administration and entrepreneurship at Algonquin College. His business studies would be the catalyst for his foray into construction as he founded his first roofing company. With a over a decade of construction experience, Daniel has built a reputation as strong builder and respected leader.
Corey is a native Nova Scotian who spent the better part of 20 years living and raising a family in Australia. Upon moving back to Halifax, Corey set out to make his name as a home builder. After several years working for one of the top firms in the city Corey set out with his partner to build the company he always dreamed of.

Corey has built up his professional experience across various industries. He studied carpentry in Australia and achieved his Journeyman status while working on architecturally designed projects like the famed Pole House. His management experience ranges from service and hospitality industry to construction project management. As co-owner of Blueprint Construction, Corey brings years of customer relations and high end construction experience to every project.